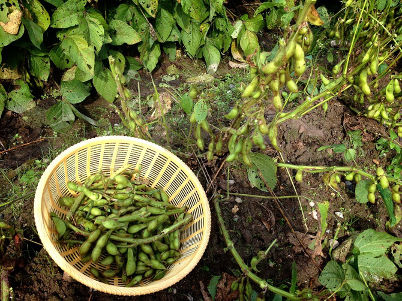 Tanba Kuro Soybeans are harvested during fall only. We cultivate Tanba Kuro on 100 hectares of farmland and then ship them to the Kyoto‐Osaka‐Kobe area as luxury boiled beans for New Years.
【How to boil Tanba Kuro Young Soybeans】
500g Tanba Kuro soybeans,100g Salt,3L Water
Wash black young soybeans with cold water. Place in a big bowl and sprinkle with salt.Remove the tiny hairs by rubbing them briskly with your hands.
For every bundle of salted soybeans, leave the salt on and add 2-2.5L water and 70-90g of salt. Boil until soft.Boil for 10 to 15 minutes, which is about three times as long as usual because they are large in comparison with other soybeans.After about 12 minutes, the tip of the sheath starts to open. Move them into a strainer when you have tasted some of it and you think that they are just a tiny bit hard.(It requires careful attention since excess boiling causes them to lose sweetness)
Pour cold water over them. Cool by using a fan and completely dry it off.
【Method for long-term preservation of Tanba Kuro Young Soybeans】 Boil Tanba Kuro Young Soybeans for 2 to 3 minutes only after rubbing them with your hands, then freeze. When eating, boil frozen soybeans for about 10 minutes with a little salt. Method for preserving:We recommend storing them in the vegetable drawer of the refrigerator. The freshness date:Use within about 1 week from shipment date. Please consume them immediately.